Alli Howard appointed Interim Director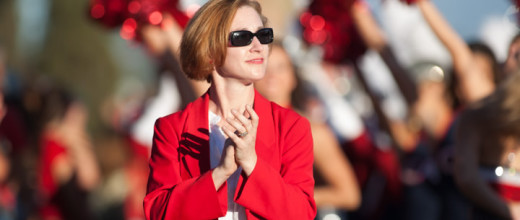 (photo by Gregor Orbino)
The University of Arizona College of Fine Arts and School of Music is excited to announce the appointment of Alli Howard, Assistant Professor of Music, as Interim Director of Athletic Bands for 2014-2015.
Professor Howard will serve as Director of the Pride of Arizona marching band and assist the UA Pep Band. She will also teach courses in Marching Band Techniques and Leadership throughout the academic year.
Howard previously served as Assistant Director of the Pride of Arizona and Director of the UA Pep Band last year under former Professor Jay Rees. She brings an extensive amount of experience as a music educator and mentor, and plans to continue the tradition of excellence that earned the UA Athletic Band program its reputation as one of the finest in the nation.
"I'm honored to be named Director of the Pride of Arizona. Being a part of this ensemble was such an important chapter in my life, and in many other people's lives. I take this responsibility very seriously, and I want these students to have just as an intense and life-changing musical experience as those who were here before them," says Howard.
She also has a message to the members of the band for this fall.
"They are in for one heck of a season. I don't think I've ever been so excited for a marching season. The [Daft Punk] show is so epic; we're all very lucky to be a part of the 2014 Pride of Arizona. Get ready to kill it!"
Alli Howard earned her Bachelor's degree in Music Education in 1999 from the University of Arizona, studying saxophone with Michael Hester and Kelland Thomas. During her undergraduate studies she performed in the Wind Symphony, was the Drum Major of the Pride of Arizona, played in the saxophone choir, and sang in the Pride of Arizona quartet. In 2004 Howard earned a Master's degree in Wind Band Conducting from the University of Arizona, studying with Gregg Hanson. She was also a Graduate Teaching Assistant for the band department.
Before her appointment to the University of Arizona, Howard served as the Director of Bands and the Fine Arts Department head at Rio Rico High School, and also as the Band Coordinator for the Santa Cruz Valley School District in Rio Rico, Arizona. In her six years at Rio Rico High School, Howard taught marching band, color guard, symphonic band, jazz band, music theory, and sponsored the school Tri-M chapter. Under her direction, the Rio Rico band program grew from 55 students to 75 students, the RRHS Winter Guard was created, the Rio Rico Jazz Ensemble earned the Judges Most Outstanding Award at the 2012 Highland Jazz Festival, and the Rio Rico Marching Hawks represented Arizona in the 2007 National Memorial Day Parade in Washington, D.C. The Rio Rico bands consistently earned ratings of Excellent and Superior at festivals. In 2012 Howard earned the Santa Cruz Valley School District Teacher of the Year Award.
During her twelve years of public school teaching, Howard has also been a guest conductor and adjudicator for elementary and middle school bands. She is an active member of AMEA, serving for four years as the South-Central Region Solo & Ensemble chair, and briefly as AMEA Member-at-Large.